I am excited to introduce an exquisite recipe that is sure to tantalize your taste buds – the Delicious Gluten-Free Lemon Cake. This delectable dessert is not only gluten-free but also bursting with refreshing lemon flavor. In this article, I will provide you with all the necessary details you need to recreate this culinary masterpiece in the comfort of your own kitchen. From the carefully curated list of ingredients to the comprehensive nutrition information and the estimated cooking time, this article is your ultimate guide to creating a mouthwatering gluten-free lemon cake. So, let's embark on this culinary journey together and indulge in the irresistible flavors of this delightful treat.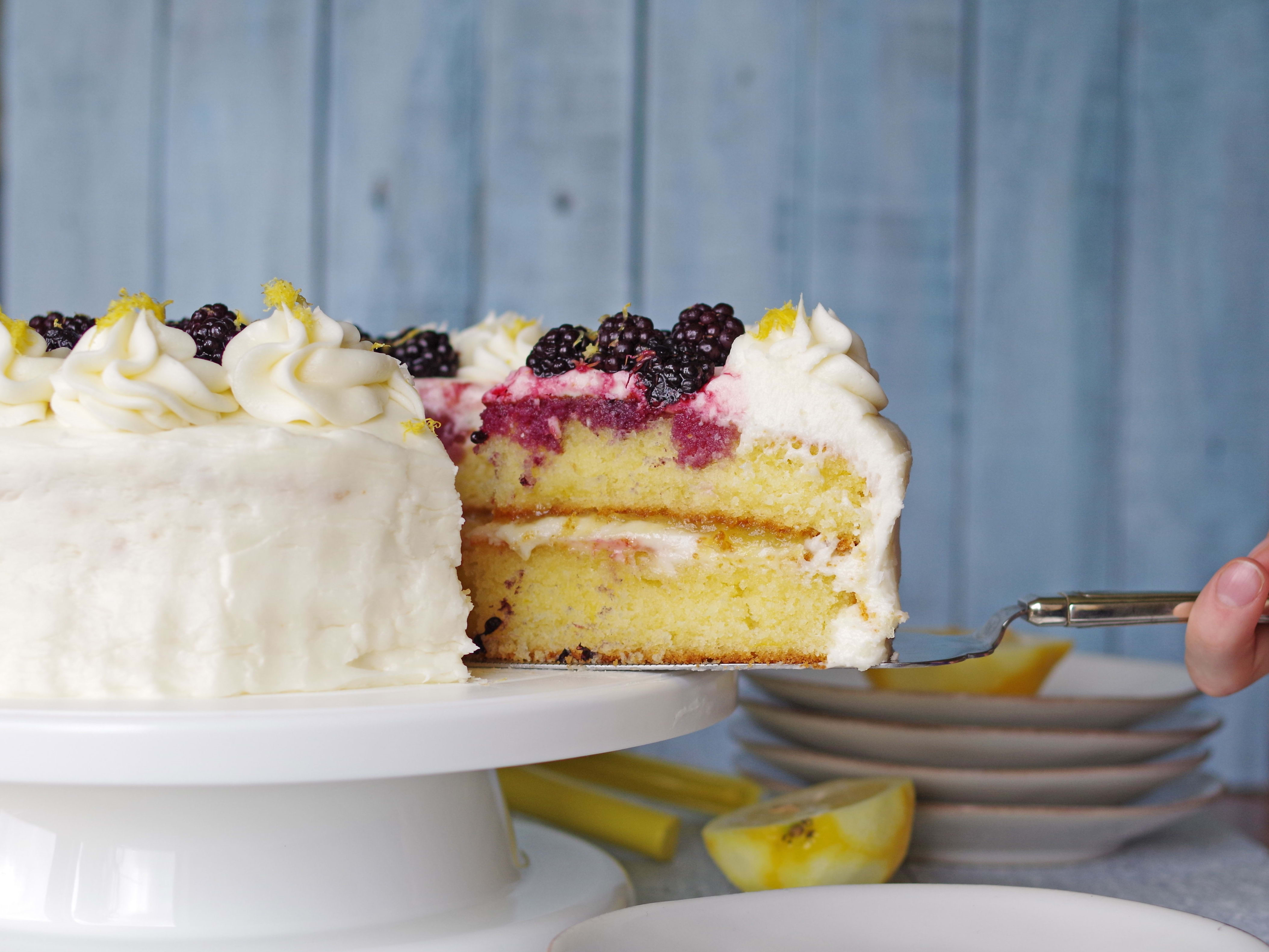 This image is property of mediavine-res.cloudinary.com.
1. Ingredients
1.1 Cake Ingredients
To make a delicious gluten-free lemon cake, you will need the following ingredients:
2 cups gluten-free flour
1 ½ teaspoons baking powder
½ teaspoon baking soda
¼ teaspoon salt
½ cup unsalted butter, softened
1 cup granulated sugar
2 large eggs
1 teaspoon vanilla extract
1 tablespoon lemon zest
½ cup fresh lemon juice
½ cup buttermilk
1.2 Frosting Ingredients
For the frosting, you will need:
8 ounces cream cheese, softened
½ cup unsalted butter, softened
4 cups powdered sugar
1 tablespoon lemon zest
2 tablespoons fresh lemon juice
2. Nutrition Information
2.1 Cake Nutrition Facts
The nutrition information for one serving (1/12th of the cake) is as follows:
Calories: 310
Total Fat: 14g
Saturated Fat: 8g
Cholesterol: 69mg
Sodium: 263mg
Total Carbohydrate: 45g
Dietary Fiber: 1g
Sugars: 30g
Protein: 3g
2.2 Frosting Nutrition Facts
The nutrition information for one serving (1/12th of the frosting) is as follows:
Calories: 231
Total Fat: 11g
Saturated Fat: 7g
Cholesterol: 34mg
Sodium: 10mg
Total Carbohydrate: 34g
Dietary Fiber: 0g
Sugars: 33g
Protein: 1g
This image is property of eatwithclarity.com.
3. Preparation
3.1 Preparing the Cake
To start, preheat your oven to 350°F (175°C) and grease and flour two 9-inch round cake pans. In a mixing bowl, whisk together the gluten-free flour, baking powder, baking soda, and salt. Set aside.
In a separate large mixing bowl, cream together the softened butter and granulated sugar until light and fluffy. Add the eggs one at a time, beating well after each addition. Stir in the vanilla extract, lemon zest, and lemon juice.
Gradually add the dry ingredients to the wet ingredients, alternating with the buttermilk. Begin and end with the dry ingredients. Mix until just combined, being careful not to overmix.
3.2 Making the Frosting
While the cake bakes, prepare the frosting. In a mixing bowl, beat together the softened cream cheese and butter until smooth and creamy. Gradually add the powdered sugar, lemon zest, and lemon juice. Beat until well combined and fluffy.
4. Baking
4.1 Cake Baking
Pour the cake batter evenly into the prepared cake pans. Smooth the tops with a spatula. Place the pans in the preheated oven and bake for approximately 25-30 minutes or until a toothpick inserted into the center comes out clean.
4.2 Cooling the Cake
Once baked, remove the cake pans from the oven and transfer them to a wire rack to cool for 10 minutes. After 10 minutes, carefully remove the cakes from the pans and allow them to cool completely on the wire rack before assembling and frosting.
This image is property of glutenfreecuppatea.co.uk.
5. Assembly and Decoration
5.1 Layering the Cake
To assemble the cake, place one cooled cake layer onto a serving plate or cake stand. Spread a layer of frosting over the top of the cake layer. Place the second cake layer on top and gently press down.
5.2 Frosting the Cake
Using an offset spatula, frost the top and sides of the assembled cake with the cream cheese frosting. Smooth the frosting as much as possible for an even finish.
5.3 Decorating the Cake
For a beautiful finishing touch, garnish the cake with lemon zest curls, fresh lemon slices, or edible flowers. Get creative with your decoration to make the cake visually appealing.
6. Serving and Storage
6.1 Serving the Cake
Once assembled and decorated, the gluten-free lemon cake is ready to be served. Slice the cake into individual portions and place on dessert plates. You can serve the cake as is or with a side of whipped cream or vanilla ice cream for added indulgence.
6.2 Storing the Cake
If you have leftovers or want to prepare the cake in advance, store it in an airtight container in the refrigerator. The cake will stay fresh for up to 3-4 days. Allow the cake to come to room temperature before serving for optimal taste and texture.
This image is property of meaningfuleats.com.
7. Variations
7.1 Vegan Lemon Cake
For a vegan-friendly version of the gluten-free lemon cake, you can substitute the butter with vegan butter or margarine, the eggs with flax eggs (1 tablespoon ground flaxseeds mixed with 3 tablespoons water per egg), and the buttermilk with a non-dairy milk combined with 1 tablespoon of lemon juice. Ensure the gluten-free flour used is also vegan-friendly.
7.2 Lemon Bundt Cake
If you prefer a different cake shape, you can adapt this recipe into a lemon bundt cake. Simply pour the cake batter into a greased and floured bundt pan and bake at the same temperature for approximately 40-45 minutes or until a toothpick inserted into the center comes out clean. Adjust the frosting if needed to appropriately cover the bundt cake's surface.
8. Tips and Tricks
8.1 Zesting and Juicing Lemons
When zesting lemons for this recipe, use a fine microplane grater or a zester to extract the flavorful yellow zest without getting into the bitter white pith. When juicing lemons, roll them firmly on a countertop before cutting to help release the juices more easily.
8.2 Testing for Doneness
To check if the cake is done, insert a toothpick into the center of the cake. If it comes out clean or with a few moist crumbs clinging to it, the cake is ready. If the toothpick has wet batter on it, continue baking for a few more minutes and test again.
This image is property of eatwithclarity.com.
9. Frequently Asked Questions (FAQs)
9.1 Can I use regular flour instead of gluten-free flour?
Yes, you can substitute regular all-purpose flour for the gluten-free flour if you don't have any dietary restrictions. The texture and taste of the cake may vary slightly, but it will still be delicious.
9.2 Can I make the cake in advance?
Yes, you can make the cake in advance. Simply follow the preparation and baking steps, allow the cakes to cool completely, and then store them in an airtight container in the refrigerator for up to 2 days. Frost and decorate the cake just before serving for optimal freshness.
10. Conclusion
Enjoy the delightful and refreshing flavors of a gluten-free lemon cake with a creamy cream cheese frosting. This cake is perfect for any occasion, whether it's a birthday celebration, a dinner party, or simply a treat for yourself. With its tangy lemon taste and moist texture, this cake is sure to impress both gluten-free and non-gluten-free eaters alike. Get creative with the presentation and decorations to make it a visually stunning centerpiece. Follow the recipe and enjoy every bite of this scrumptious gluten-free lemon cake!